Thursday, June 29th, 2006
I haven't officially announced CityScape Battle yet, but I wanted to give you guys a sneak peak of the game I've been working furiously on the past several months.
In the coming weeks I'll officially kick off the CityScape Battle dev diary and post tons of info, pictures, and gameplay movies. For now I'll "tease" you with this one screen shot.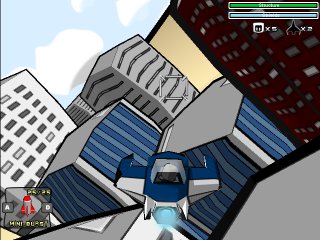 CityScape Battle is an online multiplayer team-based aerial combat game (That was a mouthful).
- Chris Evans